The rapid advancement in digital technology has made it easy for small businesses to go paperless and get rid of piles of HR-related paperwork. So now, the real struggle is not to reduce paper usage, as that has already been done.

Instead, the daunting challenge is about how to eliminate paper completely, especially in the HR division, for the simple reason this department is always engaged in activities that demand a lot of paper usage. From providing appointment letters to new employees and sharing with them a paper-based company handbook to ensuring smooth onboarding, paper forms a crucial element of the HR function.

What Do Statistics Say?

This is what stats have to say on paper consumption and paper waste. According to The World Counts, companies operating in the US use 12.1 trillion sheets of paper every year. This is even after companies embracing technology for carrying out their business process. Surprising isn't it?

This massive use of paper for trivial everyday tasks is not only costly and increases paper waste, but also is detrimental for the environment at large. Statistics show that 5,589 large publicly traded companies in the US produced 342 million metric tons of waste and sent it to landfills and incinerators in 2014. In light of this, the US Chamber of Commerce Foundation rolled out a report titled, "Trash to Treasure: Changing Waste Streams to Profit Streams" to make companies aware of the business value of adopting the paper recycling approach.

Despite the widespread adoption of digital technology, such is the extent to which paper is being used and wasted even today. This calls for a drastic change – to not just reduce paper usage but to fully eliminate it. You can start this from your HR division to make sure the paperless trend quickly percolates down to other departments as well.

A completely paperless workspace will make the hectic and humdrum tasks of your HR team, a smooth sail. No more filing cabinets and managing employee information on paper, when you have better and tech-friendly methods at your disposal. This will not only make a more sophisticated office but also reduce the cost incurred on paper, printers, and shredders. Technology-rich, super efficient and highly engaging – This is what the near future of workspace looks like.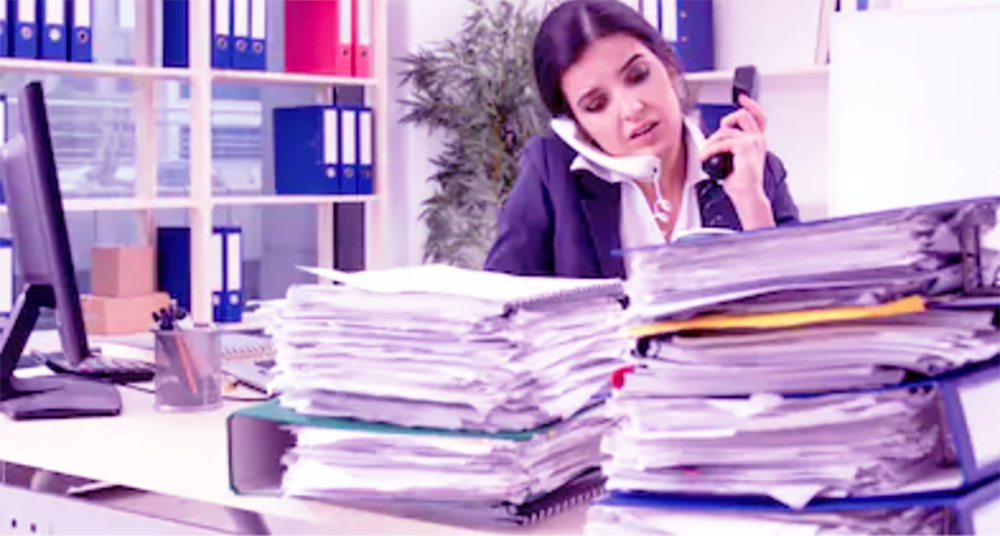 Here Is a 6-Step Guide to Help You Eliminate Paper Usage at Your Workplace

1. Make E-Signatures Mandatory
It's hilarious that we fill a form online, get it printed, sign it, and again scan it back into the system; something HR managers tend to do almost every day. Why not remove the printing part altogether with e-signatures? If we are going digital, we better make ourselves full digitalized. Using e-signatures can ease out the work of your HR staff to a great extent.

There are some documents, especially those that are employee-related, that require the signatures of your HR managers. Imagine signing over 1,000 different documents in a day! It's literally a task. But why fret, when you have electronic signatures at hand. But, you need to be careful as every country has its own laws for e-signatures. Adobe provides a complete list of laws pertaining to electronic signatures in various countries. If you are thinking of implementing digital signatures in your organization, make sure that you go through your country's IT laws.
2. Switch to E-Forms, E-Contracts and E-Resumes
Employee recruitment and onboarding is one area where a lot of paperwork is required. Applicant resumes, legal forms, health-related medical forms, and other relevant documents of employees are usually in the form of paper, which makes it cumbersome for HR teams to manage and store them safely. The fact that these documents are necessary to maintain makes the task even more important. How to make this task relatively easier and manageable?

Digitizing the process is the perfect solution. While recruiting new employees, especially, ask them to email their resumes, scanned copies of identity proofs, and other important documents. Create an online library wherein you can store all these documents for easy access when required. Even if your office has already gone paperless, there is always some paperwork that takes place while hiring new employees. To avoid that, switch to online application forms and digital resumes to ensure that there is zero paperwork.

Thanks to the increasing inclination towards digitization, online onboarding software has become extremely popular. It helps your HR team manage employee records and files effortlessly. New employees can review, fill, and sign the papers online, and your HR managers can have such details safe and secure for as long as they need it. This also saves your staff from manually transferring data into the system, which has a significant chance of wrong data entries.

3. Phase-out Printers and Fax Machines
A critical step in going completely paperless is to phase out all the printers and fax machines. The logic is simple. If there is no hard copy generating machine at the workplace, print outs cannot be generated! Strategically plan how to get away with these machines.

Create a multi-phase-out plan that includes easy and effective steps to halt their use. Machines that are not so frequently used can be removed without a second thought. But, in case, there are printer devices, which are used regularly and phasing them out suddenly might hamper the work of your employees, then it's best to adopt some other way to reduce their usage. You can probably place them at a location, which is inconvenient for your employees.

4. Insist on E-Receipts from Service Providers
The next thing you must do is inform all your service providers about you going paperless. Contact your contractors and tell them about your initiative. Ask for e-receipts and make it crystal clear that paper receipts won't be accepted. Once you get into this practice, paperwork will be entirely out of the picture. No manual handling of receipts, no confusion, and no need to devote extra space to keep receipts. All you need to do is make a folder in your system and store all your receipts at a single place.

Once your HR division starts following this practice, it will set an excellent example for other departments as well, and soon you will see a similar change across your organization. Showcase the benefits of e-receipts to all your customer-facing teams and encourage them to follow suit so that there is a uniformity in transition.

5. Switch to Cloud
Storing all information on the cloud has various benefits – easy access, multiple device compatibility, enhanced security, and much more. Since your HR team constantly have to deal with a lot of information, switching to the cloud is a wise idea to ease out their work. A cloud-based HR documentation software tool can streamline your HR operations by helping you to create a single online knowledge repository where they can store information easily. Retrieving information becomes a matter of a click, once you have your online HR document ready.

Creating an online document for your HR team is extremely easy, provided you use the right software. If you are looking for a robust tool, make sure that you look for some specific features like a text editor, roles & permissions, customization and branding options, security-related features, etc. You will find similar software online, which can make the task of selecting a single one, quite challenging. To avoid this, you can go for trial versions of a software tool to know how it works and how it can help you simplify your HR-related tasks. 

6. Streamline HR Operations with an HRMS 
Small firms are always on a hiring spree, as rapid growth both in terms of business and people is what they look out for. This means that your employee strength will keep on increasing, as you keep hiring new people for your firm. Now, managing this growing employee strength is a challenge. Right from their attendance and leave requests to providing them with timely payslips and keeping them informed of major events, is essential. With a powerful HRMS tool, these seemingly tedious tasks become a mere cakewalk, as your HR managers don't have to put in manual effort in managing employees. 

Today, everything can be done online in a snap. Such a system is even beneficial for employees, as it eliminates the need for emailing or directly reaching out to colleagues for information. Besides, it also empowers your employees with self-service, meaning, they can directly browse through the HRMS to get information on anything, be it their log-in and log-out timings, their application status for particular office activity, reimbursement on a recent official trip and much more.

---
Transitioning from paper-based to completely paperless is difficult and might take time, but given the enormous benefits it offers, all your efforts will be worth it. Also, while you are transitioning, don't let it go unnoticed. Make an official announcement across your organization about this initiative and set an example for other divisions. Make employees aware of how this big move will benefit them and encourage them to get rid of paper completely for two significant reasons, first to boost productivity at work and second, to save the environment.