More than half of employees who voluntarily leave their jobs do so quickly — within the first year of employment, according to a
study
by Equifax. Clearly, retention is more important than ever. And what else relates to retention that is often (sadly) overlooked? The answer is employee onboarding. And the best companies around know this and use it to their advantage. Look, I don't need to convince you that hiring takes a lot of time and energy — you already know this. Recruiting, employee onboarding, and then, of course, retention. Heck, recruiting on its own is no easy feat… especially when you're looking for top talent for your company! But we all know that the work doesn't stop at recruiting. Once you find a great fit for your company, you've got to make sure that you onboard them efficiently. After all, if you want your new hires to stick around, shouldn't your employee's first experience at your company to be a positive one? If the answer is yes, here's how you can give your new hires a meaningful first experience that will last…
Get the New Hire Checklist Template here (it's free)
New Hire Checklist Template

A 52 point checklist to ensure your new team member is onboarded thoroughly, without missing anything! Download PDF | Word Document
1. Communicate before your employee's first day
Take this all-too-common scenario: A candidate accepts a job offer, they're assigned a start date, and then nothing. Crickets. There is no communication between the day they accept and their first day on the job. In other words, they show up to work on their first day with no idea what to expect. Is that really the way you want your employees to feel their first day? Of course not. To avoid this type of confusion and make sure your employee starts their first day on a positive note, the key is to keep them informed before they even start. After they accept the offer, let them know when they start and what they can expect during their first week. Walk them through the process so that they're prepared (and not up late stressing about what will happen their first day). That way, your employee will come into the office refreshed, prepared, and ready to get to work.
2. Know that you shouldn't stop checking in after the first week
It's easy to think that if you supply new hires with the materials they need and check up on them at the end of their first week, the hard work is done. This couldn't be further from the truth. While checking in on your new hire during the first week is great, you've got to keep checking in with them regularly throughout their first year to really make a lasting impact. For example, Google found that new hires
were most successful
when managers checked in with them at least once a month during the first six months of their job. And past that, don't forget the importance of 1-1 meetings — they're an excellent way to retain the employees you spent so much time finding and hiring. After all, you don't want to lose them after all the hard work you put in finding them in the first place!
3. Pair new hires with an onboarding buddy
While it may sound simple at first, this one works. A great way to make sure new hires are comfortable is to
pair them up with another team member
. And no, I don't mean pair them up with their manager — of course, managers will play a big role during the onboarding process, but it's important to pair them with a peer. In fact, it's best to pair them with a peer who has already worked at the company for a while. When an existing employee shows a new hire the ropes, they'll likely feel more comfortable and may even be willing to bring up questions they might normally hesitate to ask management. A fair number of new hires might feel like they have an overwhelming amount of questions, which is why it's good for them to feel like they can talk to more than just one person. Plus, getting a tour from a peer will give new hires a different perspective.
4. Provide employees with a welcome kit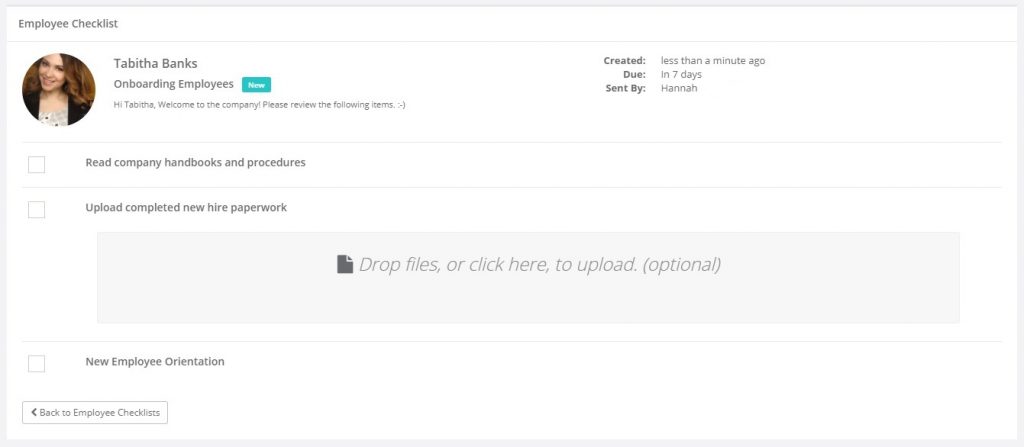 A new hire's first week can be chaotic for both the employee and the manager. There's a lot to remember. Things get lost. One thing you want to be sure to have in place is an employee welcome kit. For example,
Warby Parker sends all new hires
an electronic welcome packet so that employees can get familiar with the company's history and values. If you have general company onboarding documents stored in one place online, you can make sure nothing is forgotten or slips between the cracks during the employee's first week. So, what should you include in this welcome packet? You can add things like your company handbook, policies, frequently asked questions, and any necessary documents and procedures the new hire might need. Something else to note: When you talk about your company's policies and values, try to reference specific examples. If you reference a story or real example, they'll be more likely to relate and understand. For example, if you have a policy in place that it's OK to work flexible hours, point to a specific example like, "Some people come in at 7:00am and others at 10:00. It's not the time they come in that's important to us — it's the work they produce that we really pay attention to."
5. Define success when training new hires
When onboarding a new employee and training, don't forget this one vital step: Let them know what success means in their role. In other words, tell them how they can master their job and what they need to do. You'd be surprised how many employees aren't told how to succeed at their jobs and what it takes to get there. Put together a roadmap to success and let your hires know how you define success. The more KPIs you can provide, the more they can measure their own performance and produce the best work. The result? New hires will know whether or not they're making the right kind of impact, which is crucial.
6. Consider unique onboarding gifts
Who doesn't like thoughtful gifts? (Emphasis on "thoughtful"). Many companies give their new employees swag when they've hit major milestones like 10 years of work, but why not extend this to new hires as well? Here's the thing, though: Consider giving away something memorable and unique to your brand. We've all been to conferences only to leave with tons of useless, generic swag. But there are always a few companies that stand out because they give away something that others don't. Take a similar approach as you onboard new hires: Rather than give all new hires a generic mug, what could you give them that symbolizes your company in a unique way and provides value? You may be wondering what to provide. I don't have the answer, because only you know what that will be. After all, you know your company best.
7. Let employees design their own workstations
It's not just companies like Google that offer this perk. According to
Remote.co
, there are a variety of companies — like
Plex
— who also let their employees choose their equipment at work. Everyone likes having choices, so why not give your employees the ability to choose their own work setup? Not only is this a great perk, but it will also give your employees the freedom to work in a way that helps them truly excel. If they work best with a standing desk, you can give them that tool they need to succeed. If another employee prefers a PC, they could make that choice.
8. Introduce new hires to everyone (even senior executives)
Nothing replaces a warm welcome from the team — including senior executives. When a new employee is hired, it's important that they feel connected to ALL aspects of the business. If they have a basic understanding of how all the departments work together, they'll feel closer to the organization. Being welcomed by other staff (senior executives included) humanizes a company. It shows new hires that everyone is approachable. For example, at Netflix,
new employees are welcomed
by an orientation with executive management. Within the first quarter, they meet with the CEO.
Never stop improving your onboarding process.
Remember that your onboarding plan can continue to grow and evolve over time. You'll get feedback from hires and will always be making small changes to your employee onboarding process. The important thing to remember is to never stop learning. Keep enhancing your onboarding process so that you can continue empowering your employees, equipping them with the tools they need to succeed.
Quick question: How does your company onboard employees?
We'd love to hear from you.
Get the New Hire Checklist Template here (it's free)
New Hire Checklist Template

A 52 point checklist to ensure your new team member is onboarded thoroughly, without missing anything! Download PDF | Word Document