When you're tasked with creating a job application form it can be daunting, and knowing where to start can be difficult. You need to be able to attract the best and brightest if the business is going to grow, but at the same time, you don't want the HR department to get a reputation for unintelligible forms. Striking the balance between ease of use and capturing detail is what really matters here, so let's take a look at how you can make it
happen.
Why is the application process going online?
In today's interconnected world you can do just about anything you want with the palm of your hand. The days of phoning up recruiters, waiting for callbacks, and then getting CVs to the post are long gone. These days, applicants want to be able to search for new opportunities in the evenings, or on their lunch breaks, and that means your application process needs to be online.
Will your applicants be put off by online submissions?
Absolutely not, in fact, you'll find quite the opposite. Applicants want to be able to take care of their submission at a time and place that suits them, and online submission gives them near-total freedom. By going online you're opening the business up to more applicants than ever before, which is only going to increase your chances of hiring the best and brightest. Let's take a look at the best practices of creating online job application forms.

Use a standard template to get things moving
Now that you are ready to get started, a quick search for some standard templates is the way to move things forward. There are plenty of them out there, so don't spend ages trying to figure out which one is perfect for you. You're going to have to make some modifications and refinements to anything you find, so accept it, and move forward.
Include a field for the applicant to attach their resume
You want to make it clear that the online form is the one-stop-shop every applicant has been looking for. A prominent drag and drop box where it's clear the resume or the CV needs to be placed in is the way to achieve this. Then they'll instantly know the only other thing they have to do is fill out each of the required fields on the rest of the form.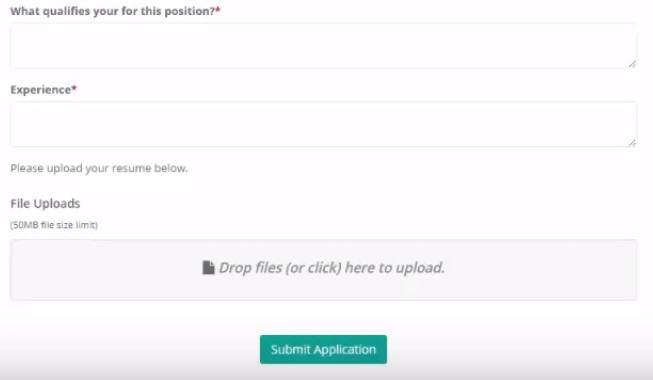 Highlight mandatory fields so they're never missed
Mandatory fields are obviously important, so make sure they're clearly highlighted all the way through. You can set the form so it cannot be submitted when any such fields are left blank, and that's certainly something you need to do. There's nothing that will slow the recruitment process down than having to have a few of your members of staff chasing for key details from incomplete applications.
Keep everyone in the loop
Keeping everyone involved in the hiring process in the loop is one of your key jobs as the HR manager. By setting each complete application to be automatically forwarded to the emails of everyone involved, you can make it easy for everyone to collate applications as they go. Ideal if you want to avoid any last-minute panics the night before the interviews are set to take place. If you use a decent Applicant Tracking System (ATS), this should automatically keep your recruiting team informed.
Create a style that fits the audience
There's no use adding lots of complicated and technical language if it's unlikely to be understood by the type of applicants you're looking to attract. Keep your language simple, and your choice of words relevant, and you'll be able to create a text that connects with everyone.
Specialized fields like multiple choice questions are worth a look
If you want to have a simple screening process built into your application form, why not add a couple of subject-specific questions near the end? Ask for definitions of a couple of key terms and you'll be able to weed out anyone who has clearly applied for a role they're not well suited to. Remember, this is just a little bit of screening, it doesn't have to feel like an exam.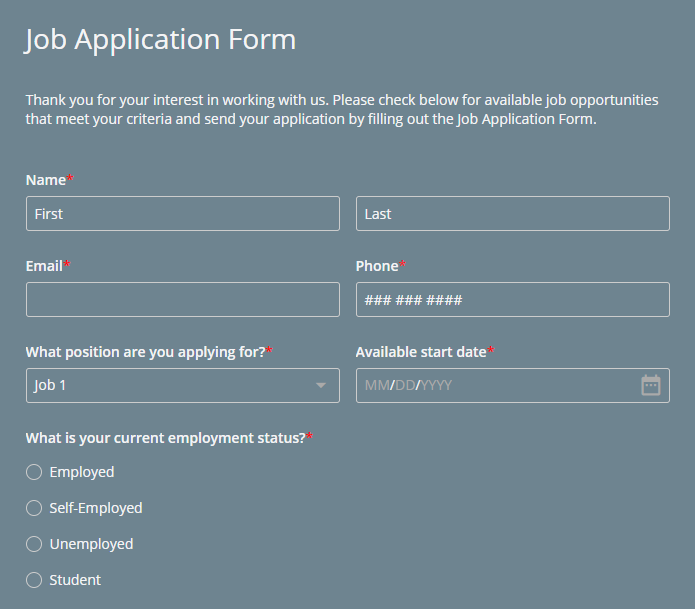 Make sure there are logical flow and structure in your form
Ask any of the paper writing sites out there what the best way to confuse people is, and they'll tell you all about the pitfalls of a poorly thought out structure. If your form chops and changes every 2 lines then it's going to be hard for any applicant, no matter how bright they are, to make sure they cover all the bases. Think about how to make it simple and easy to follow, and it'll make it easier for other staff to look over the applications too.

Avoid unclear sentences that cause confusion
Given the topic of this subsection, we could just leave it at that. The point here is that the fewer words you can use to get your point across, the better.
Proof everything so there are no grammatical errors
There's nothing worse than realizing you've been sending around a document that's riddled with errors and typos. Taking time to check everything you put the company's name to is the right way to go here. Make sure you show it to someone else as well. They'll have that little bit of distance from your work which will make it easier for them to highlight errors and inconsistencies.
Avoid overly personal questions that will put some candidates off
There's no reason to try and get to know someone at this point — that's what the face-to-face interview is for. Avoid questions about relationships, hobbies, and lifestyle choices. All they'll do is make your form put off some of your most able candidates.
Include key dates and deadlines to add clarity
One of the great things about online submissions is applicants feel like they're making progress. Add the key dates and deadlines to the bottom of the form so they are ready and waiting to take your call, and you'll find you have far more people turning up for interviews. It's such a little thing to include, but you'd be amazed at the number of businesses that assume candidates are happy to wait indefinitely.

Keep everything up to date on a rolling basis
The final thing you need to do is keep everything up to date. There's nothing more self-defeating than an application form that's out of date. Periodic reviews are the best way to combat redundant files, so schedule one in the moment the application form goes live.

Final Thoughts
Now that you've heard all about how to create an online job application form that will work in the best interests of the business, it's on you to make it happen. Bring the other members of the HR department up to speed with what you're trying to do, and they'll be able to help you achieve it. Perfect if you want to enhance your reputation as a professional that can really make a difference to your company.
---
Daniela McVicker is a career coach and an editor at Top Writers Review. She's also a business communication coach, helping future job applicants and employers to write effective business emails.