Are you an HR manager or small business owner looking for vacation & sick time tracking software? If you're looking to streamline your HR and manage employee time off by keeping everything in one place, it's important to choose the right tool for your business.
More importantly, you need something that will scale with your business.
Here's the thing: Employee leave tracking tools can save you a ton of time, but it's important to know what to look for. Do you want something barebones and basic, or would you prefer a tool that will be flexible enough to grow with your company?
When it comes to HR software, it's important to keep in mind that leave accrual, holiday and employee leave tracking, sick leave tracking, and employee record management are all very important.
In other words, it's important to have clear records in place that you can reference later.
To avoid wasting time, it's best to choose a cloud-based tool that can support your company's requirements with ease (because let's face it — you already have a million other things to worry about!).
Here are a few things you should look for when selecting the right HRIS to help your small business track sick time and employee leave:
The Ability to Set Employee Leave Entitlements & Track Balances
If your small business is looking for a way to set employee leave entitlements, you probably already know that spreadsheets are only helpful for so long.
Spreadsheets, email, and paper files can suck up days (if not weeks) of lost time — not to mention these methods are prone to manual error!
The easier way? Cloud HR software that can easily handle employee sick time and holiday tracking.
Automatic Leave Accrual
Forget about employee leave tracking calculators or spreadsheets.
After all, you're busy enough as is!
The best HR tools out there allow for automatic leave accrual out of the box.
This means that with the right cloud tool, you'll be able to specify the amount of time off you want to give each employee (or you can choose in bulk).
This means that after setting this up, you won't have to worry about making those calculations manually — it's all done for you in the system.
Think about all of the things you could do with that free time!
Support for Different Types of Employee Absences
There are a variety of leave and absence types you may be tracking for employees: Annual leave, maternity leave, sick and carer's leave, compassionate & bereavement leave, long service leave, community service leave, and more.
With so many different leave types to keep track of, it's crucial to choose a tool that will allow you the opportunity to add multiple leave types.
Keep Track of Time Off Using Hours or Days
While most HR systems are able to handle full day absences no problem, what happens when an employee needs to take a half day off?
This is a common scenario, so it's important that your HR system can handle these situations without a hitch.
You will want the ability to record their absence in the system, which means your HR system will need to be flexible enough to allow for partial days as well as full.
Employee Self-Service Option
Does your small business currently have a hard time keeping leave requests tidy and organised?
Has a leave request ever slipped through the cracks?
Well, if it hasn't happened already, consider yourself lucky!
As any business grows, it becomes increasingly more important to put processes in place that will handle things like employee leave requests.
With the right processes in place, you can easily streamline holiday requests and sick time at your company without losing time in the process.
By implementing an employee self-service option, your employees will have the convenience of being able to login from any device to view their available time off balance, submit leave requests to their managers, and (if you choose) see who is on leave (and when).
A cloud-based solution offers plenty of flexibility for both managers and employees. Enterprise companies have been using cloud software for years, and luckily small businesses are now able to enjoy the many benefits of cloud software, too.
Employee Vacation Calendar
Have you ever been so busy that you had to double check and see whether or not someone was still on leave?
If the answer is yes, then you already know it's not fun to search through your inbox or desk to find those exact dates.
Or maybe you've experienced another common scenario: Your employees are submitting vacation requests without knowing whether or not their time off request conflicts with another employee's.
Yep, not having a calendar to track employee time off and holiday can quickly become a pain. And it only gets worse as your company grows!
That's why having a leave calendar in place can save a lot of time in the long-run — you can see who is in and out on any given day, week, or month.
With HR Partner, your leave and absence calendar is already baked in. You can also sync this calendar to Google Calendar or Outlook to make things even easier.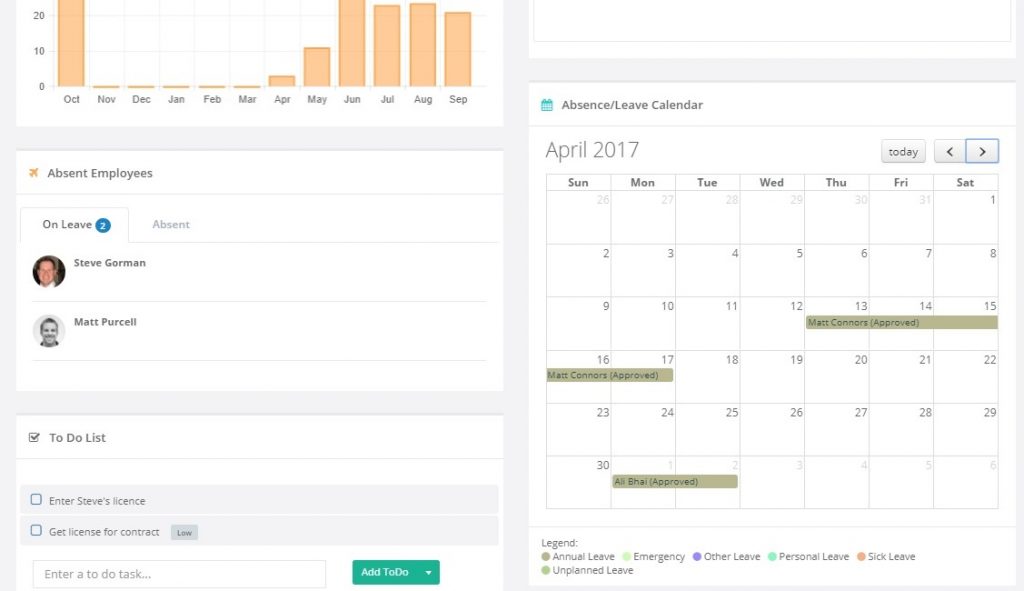 The Ability to Generate Leave & Absence Reports
Many companies create absence and leave reports on a monthly basis to get a clear view of what's going on.
Much of the time, this means spending hours at a desk working with time-consuming spreadsheets — or worse — paper files!
The right HRIS can save you weeks of time every year by helping you generate these reports in a matter of seconds (with just the click of a button).
Upfront OR Incremental Leave Options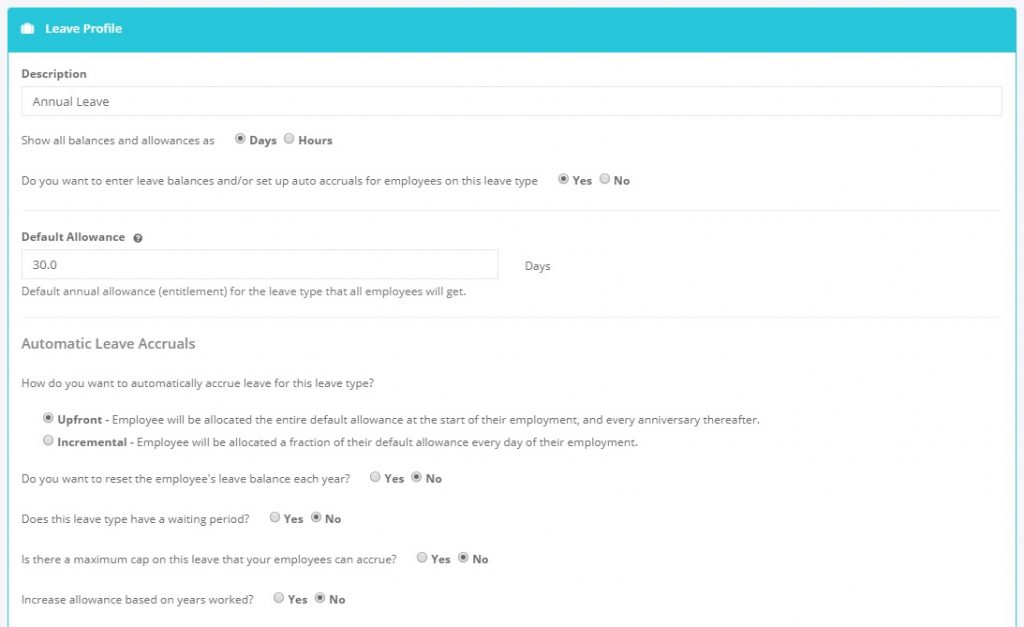 Whether you allow leave to be taken upfront or it is dispersed over time, your vacation and absence management software should cater to all scenarios with ease.
Ready to start saving time by exploring vacation & sick time tracking software?
What HR Partner users have to say: "I have just completed the audit. I showed them your application and explained how its fits in with the HR aspect of my business, and they were blown away." -Jonas M., Perth Healthcare and Support Enterprise.
Looking for employee sick & leave tracking software? Try a free trial today so that you can finally breathe and stop worrying about your HR business processes.