If you're recruiting, you'll know that there's a lot of emailing candidates back and forth involved in the process. If you use a tool like the Applicant Tracking System (ATS) included in HR Partner, you can save a lot of time by setting up various email templates. But even if you use your own email system, you can still benefit from having a standard set of templates that you use to improve the efficiency of your recruiting.
Of course, you should also customize your emails to candidates where possible – especially for those that are still under consideration or have made it further down the track. But having a base email to work with and add to saves A LOT of time, and will usually result in you sending out more professional messages. In our view, it's best to take the time to write a great email once, and then use it over and over again for the most effective recruiting process. After all, recruiting already takes up an enormous amount of time – so save some where you can!
So what recruiting email templates do you need?
This will vary depending on your recruiting process and the types of candidates you're trying to attract, but the 10 essential email templates are as follows…
Recruiting Email Template 1:


Thanks for Your Application

This is the email that candidates should receive straight after after submitting their application. In most cases it will be automated so that candidate gets immediate feedback and know that their application has been successfully received.

Ideally, the email will reference the position they've applied for and might even give them an idea of the timelines to expect. Here's an example: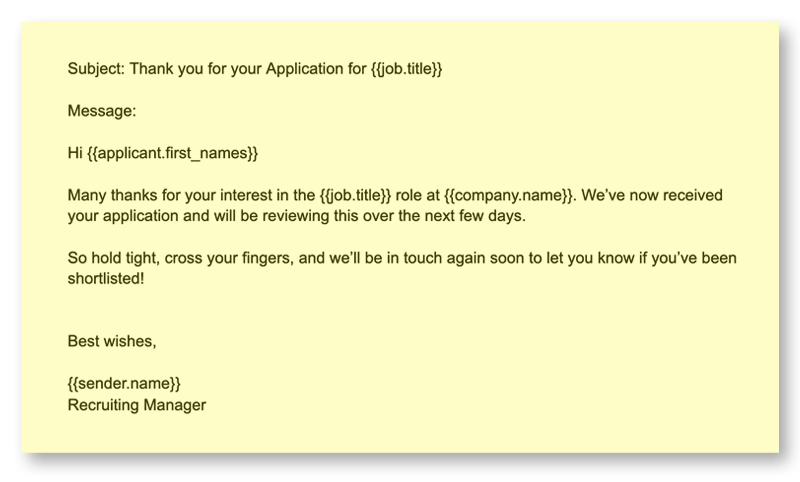 Download the Recruiting Email Templates
Recruiting Email Template 2:


Request for More Information

When recruiting, you might choose to use an application form to ask candidates to supply certain information upfront. However, there are also times when it might be better to ask applicants for more information after they've applied. Their response times can be a way of screening in itself! For instance after screening their resume, you might want to ask for examples of some work, ask them to write something (if that's a requirement of the role), or even ask them to send in a short video introducing themselves.

Here's an example of an email that asks candidates for more information: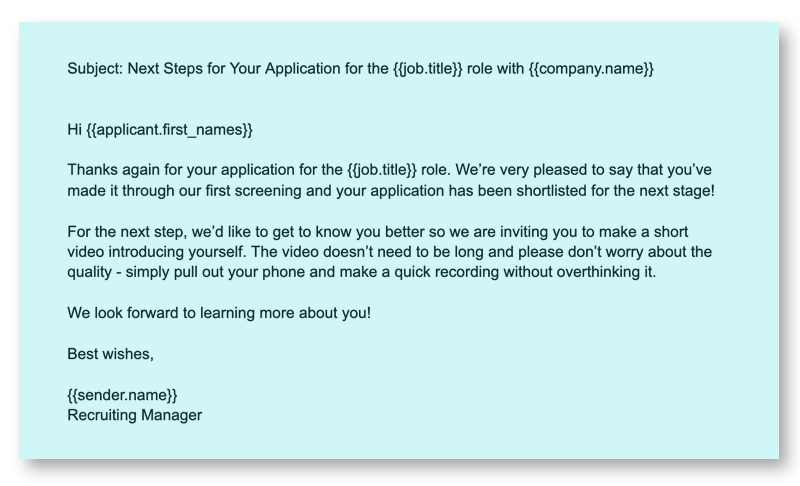 Recruiting Email Template 3:


Request to do a Test or Task

Likewise, part of your recruiting process could involve you requesting that candidates complete a test or task you assign them. This might be early in the recruiting process, or in later stages after one or two interviews.

The test could be an online test (eg there are many technical tests available), language test, typing test, problem solving test, or even a psychological test.

For a task, you could ask for a critique of some existing work (eg an advertisement for a marketing role, a logo for a designer, a blog post for a copywriter, etc), or you could ask them to actually do something to demonstrate their skills. For example, this could be for them to write an introduction to a social media post, layout a business card, or something else. Just make sure that the task is not too large and is legitimately part of your recruiting process – unless you are prepared to pay them for their time (which can also be a good idea).

In any case, here's an example of an email template you can use: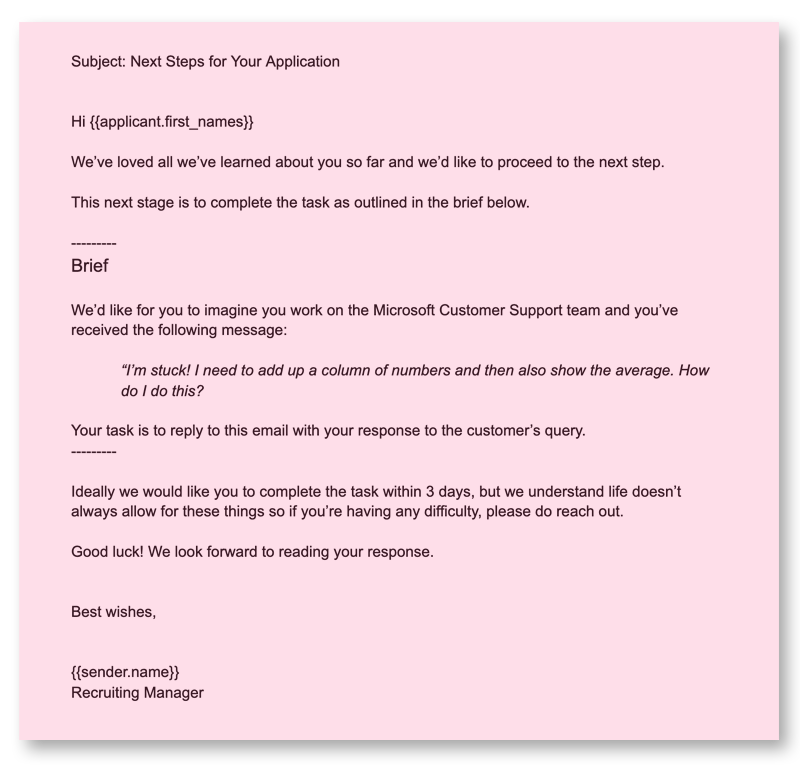 Recruiting Email Template 4:


Invitation to Interview

Most recruiting processes will include at least one interview stage, so you'll also need an email template to invite the candidate to interview. You can either give the candidate several days/times to choose from, or send them a link to an appointment booking tool like Calendly, which automatically updates with the correct availability.

An example of an email to use for inviting a candidate to interview is as follows: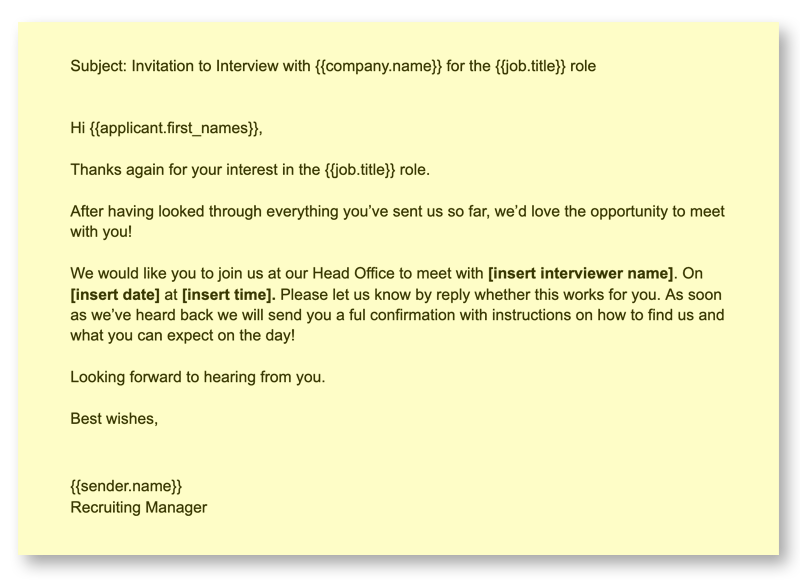 Get the Free Email Templates
Recruiting Email Template 5:


Interview Confirmation

Once someone selects an interview time, you should also acknowledge that appointment time and give them any specific instructions they need for the interview. This might include how to get to your office, where to park, what to bring, or instructions for joining an online video call (eg Zoom link and instructions).

Here's an example: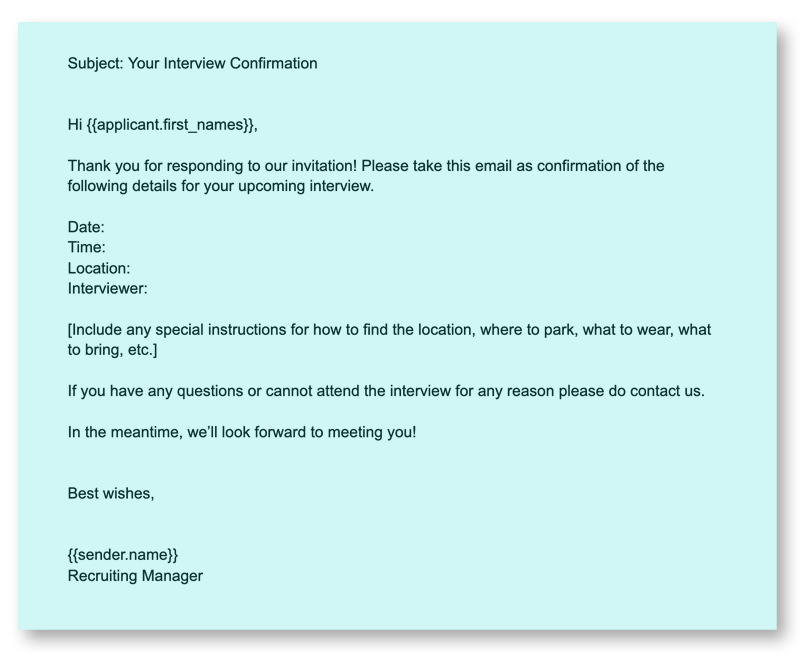 Recruiting Email Template 6:


Invitation to a Second Interview

For many roles, it's common to have two (or more) interview stages, so you'll also need an email template that invites them to this interview. The applicants receiving this email are ones you're fairly serious about, so this email is a good opportunity to communicate your commitment to finding the best candidate for the role and keeping their motivation levels high.

Here's an example of this email: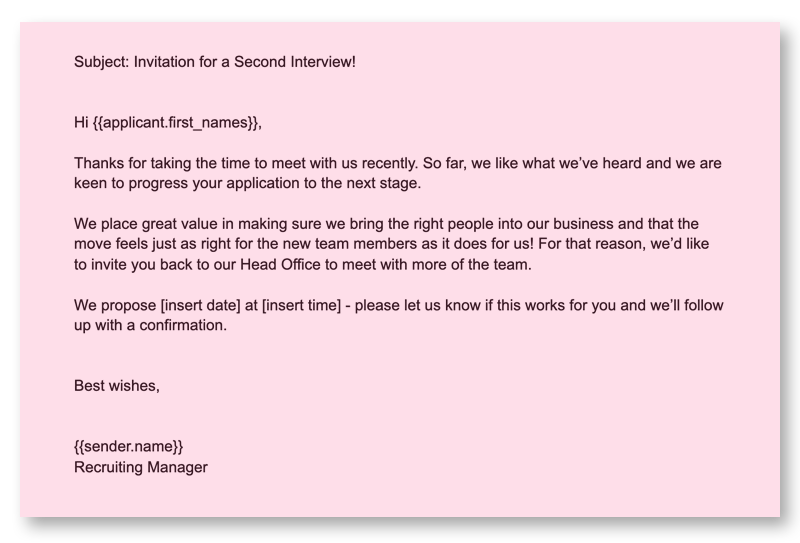 Recruiting Email Template 7:


Request for References

Once you're reasonably sure a candidate is right for your role, you should include a Reference Check stage. Don't be tempted to miss this! Also see our article on How to do a Reference Check here.

Here's an example of an email to ask a job candidate for reference: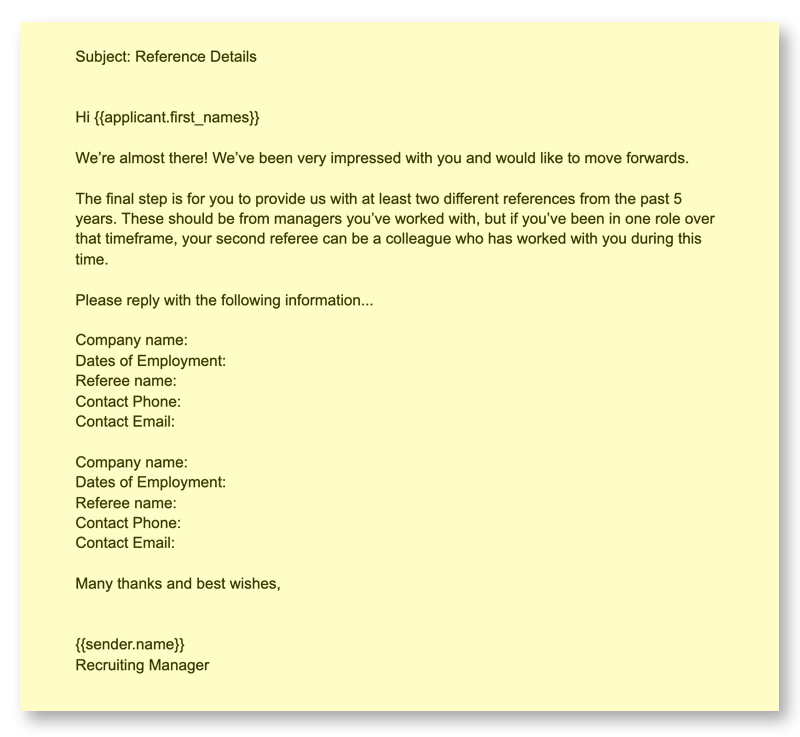 Download the Recruiting Email Templates
Recruiting Email Template 8:


Job Offer

Of course, another important email you will need is an email of a job offer. There are several ways you can approach this, but one effective way is to email the candidate with an outline of the offer and ask if they intend to accept the position. Then, when they respond positively, you can send them the more detailed contract as an eSignature document for signing and completion. This way you can make any changes to the contract regarding the start date and possibly the remuneration before you draw up the detailed contract.

Here's an example of a job offer email: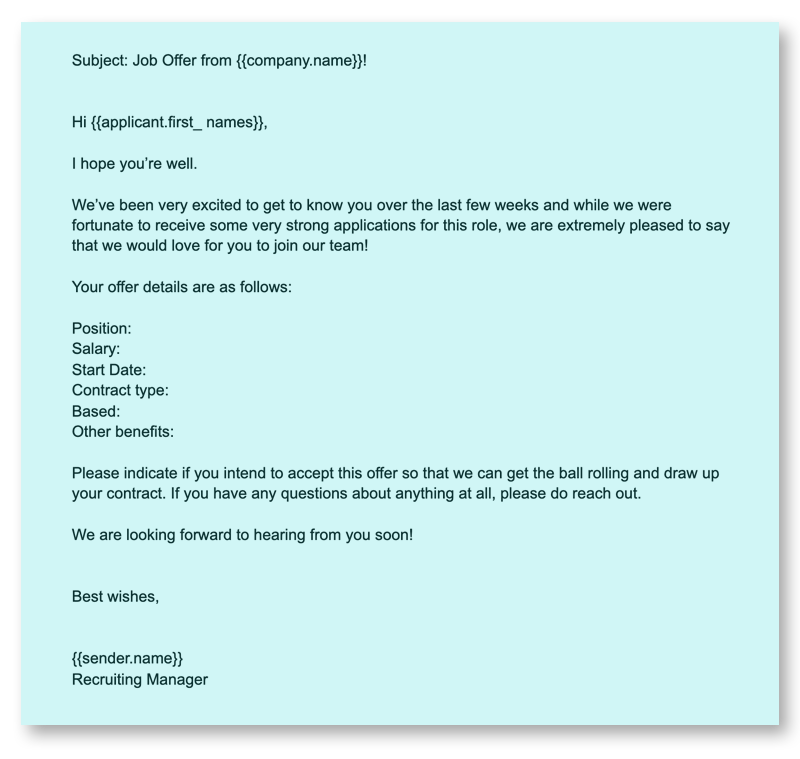 Recruiting Email Template 9:


Rejection After Application

Another email template you'll need for recruiting is a rejection email. Of course, this should be polite, but if the candidate is at the early stages, it doesn't need to go into too much detail.

Here's an example of a job application rejection email: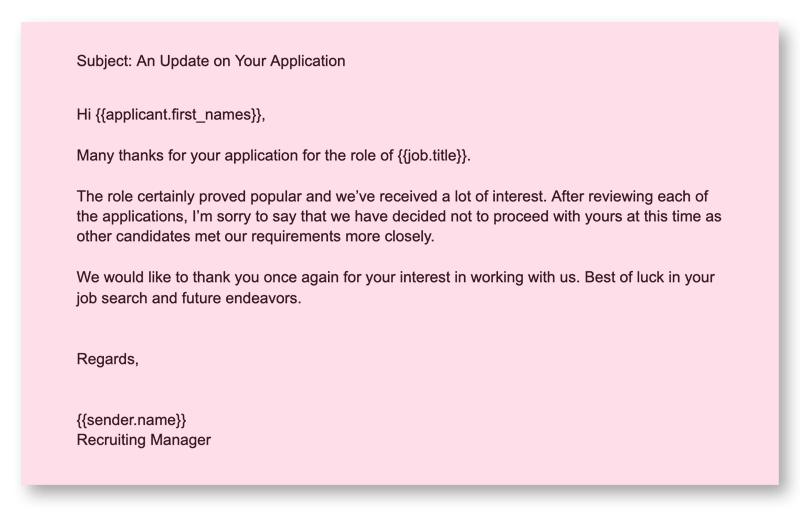 Recruiting Email Template 10:


Rejection After Interview

Finally, the last email template you'll need is one for rejecting candidates that have already interviewed with you. For this email, keep in mind that the candidate has now spent considerable effort on their application to work with your company, so the communication should reflect this.

Here's an example: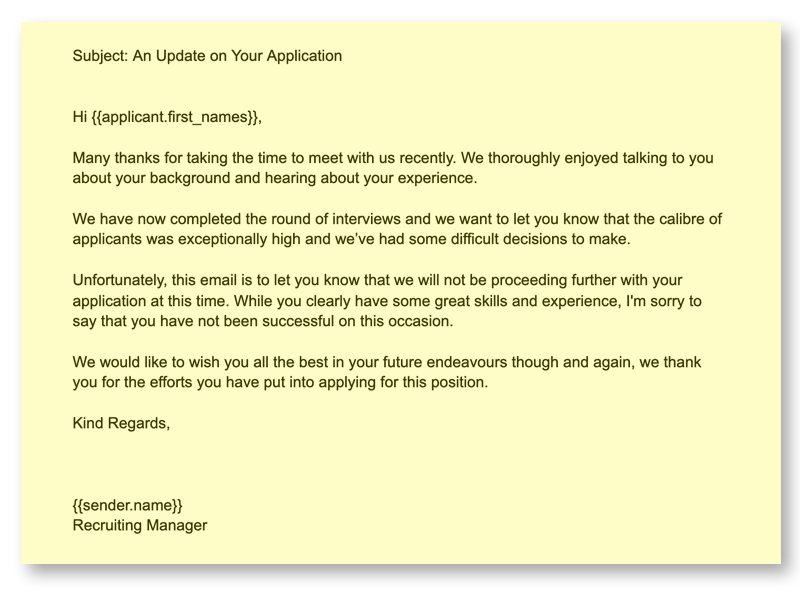 Download Now: Free Recruiting Email Templates
If you want to download a Word Document with all of these email templates in a format where you can edit them, please click here (they're free).
10 Recruiting Email Templates

Much of recruiting involves the simple task of emailing candidates back and forwards! To do this efficiently, setup the key recruiting emails as templates. Use these 10 essential recruiting emails as a guide and customize to make them your own.