Did you know that a Job Advertisement and a Job Description are NOT the same thing? Although they're similar, there are some very important differences between the two. Which is not surprising as they perform very different functions!
Here we explain the differences between these two important HR documents.
Job Advertisements
First and foremost, the function of a job advertisement is to attract the best candidates. This is likely to be the very first touch-point with your company so it's important to make a great impression. This is especially true for passive candidates – those candidates who are already employed but might be looking for a better opportunity (often the best candidates!)
Of course, as well as attracting candidates, the job ad needs to inform potential candidates about the position, including the skills and other attributes needed for the role. It should also include information about the company and what the working environment is like.
Job Advertisements should use short, exciting language to present the position in the best light possible. Remember, this is an advertisement! Put on your "marketing hat" and try to do everything possible to encourage the best candidates to apply. Your job advertisement should NOT be an exhaustive list of job duties and functions for the role – that belongs in your Job Description.
In a Job Advertisement, your Job Title might be slightly different to the official job title. You might add more descriptors. For example;
Instead of "Office Manager" it could be "Full-time Office Manager, Houston"
Or instead of "Customer Service Representative", it could be "Dynamic and Friendly Customer Service Representative"
Also remember that a Job Advertisement should include keywords that potential candidates will be searching for on public job boards. Think like a candidate and include the key programs they might know, or ways they might be describing a job they're looking for. For example "Adobe", "Ruby", "warehouse", "stocker", "driver", "telephone" etc.
When writing your Job Advertisements here's what you should include;
Job Title
Company Information
Job Summary / Position Overview
Job Responsibilities and Duties
Job Requirements / Selection Criteria
Job Location
Benefits and Compensation Information
Reporting Information
Job Ad Example
Putting it altogether, here's an example of what a job advertisement might look like…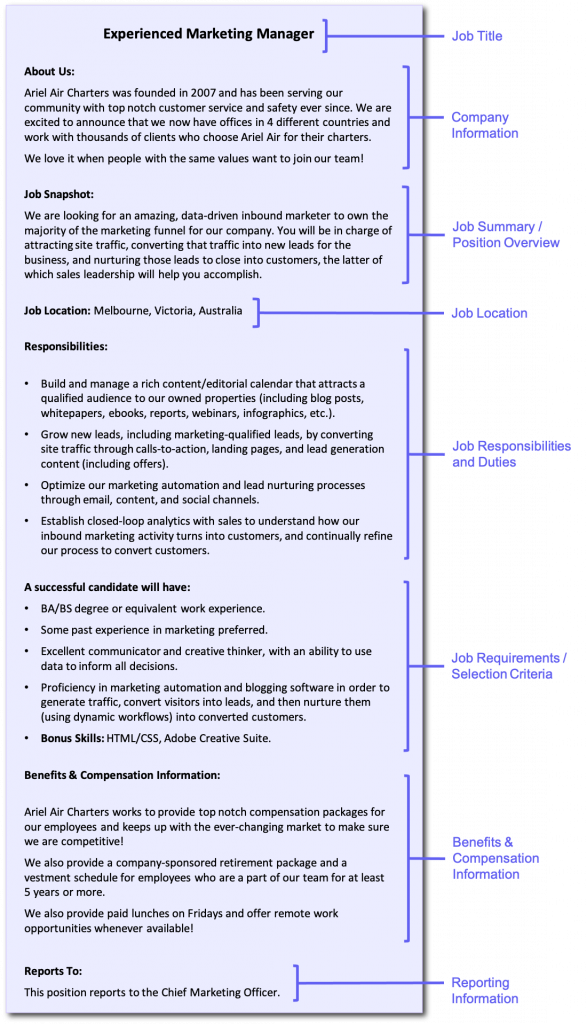 Job Descriptions
On the other hand, a Job Description (or Position Description) is a summary of everything that a role requires in terms of essential responsibilities, activities, duties, qualifications and skills that may be needed to successfully complete the job.
The Job Description is a much more detailed document that is a reference for the manager and employee and can often be used in performance reviews. When recruiting, you should consider sharing the Job Description with candidates – perhaps before their first interview – so that they have complete transparency and can gain a very clear understanding of the role.
When writing your Job / Position Descriptions, here's what you should include;
Job Title
Job Summary or Overview of the Role
Job Location
Responsibilities & Qualifications
Daily Duties
Skills Needed to Perform the Job
Knowledge Needed for the Role
Soft Skills
Hard Skills
Certifications, Diplomas, Degrees necessary for this Job
Organizational Structure: "Reports To"
Supervisory Responsibility (will this job have any direct reports?)
Salary Range or Compensation Structure
Company Benefits: Healthcare, Paid Time Off / Holiday, Other Perks of the Job
Company Bio
You might also consider adding in this information for an all-encompassing job description:
Job Classification (e.g. Full-Time, Part-Time)
Date of Job Description – keep track of the last time you've updated your Job Descriptions!
Work Environment – describe the environment where this Job will be working
Physical Demands / Lifting Requirements
Expected Hours of Work
Travel Required
Disclaimer – Consider adding a statement that indicates that this Job Description is not meant to cover all activities and responsibilities and that the Job Description is subject to change
Signature Lines for Employee / Supervisor to Sign
Free Download: Job Description Checklist
To make it easy to ensure that each of your job descriptions include all the vital elements, we've prepared here a checklist. Print out the PDF or download the Word version to edit this to suit the needs of your organization.
Job Description Checklist

A one-page checklist to create position descriptions that are contain all the necessary information.
Hopefully that clarifies the differences between a Job Ad and a Job Description. Although it's tempting to use one document for efficiency, this really means that you probably don't have a very good job ad OR job description! Using these guidelines, it shouldn't take much time to create documents that are specific to their purpose. You should find this will help you attract better quality candidates as well.