Nothing is worse than being wrong about a new hire and realizing that you hired the wrong person. It costs time, money, and brings down the whole team.
Or maybe you made a great hire, only to realize that it was more difficult than you thought to repeat and find other A-players.
But you know what's also pretty frustrating? Not knowing what went wrong in the decision-making process leading up to the hire.
The best managers have processes in place and know that hiring isn't just a game of chance.
Although there is always some element of randomness, people who have been hiring top talent for years have specific processes in place to assist them in making quality hires consistently.
Even despite these processes, HR managers and recruiters also know that there is no silver bullet and that even the sharpest hiring managers can make hiring mistakes.
The truth is that even though there is not a magical way to make sure 100% of your new hires are great. However, having solid practices in place will help significantly increase your chances of hiring an A-player.
After all, it's all about building a repeatable hiring process that will help you win top talent again and again.
Savvy recruiters know that consistency is key when it comes to hiring A-players, which is why resources that promote consistency, like interview scorecards, are on the rise.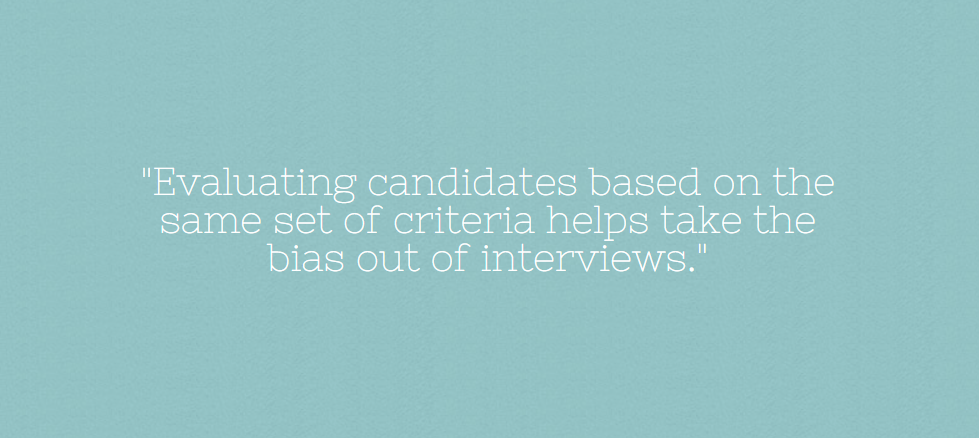 Carlie Smith, Head of Talent at OpenView Venture Partners, says that interview scorecards help hiring managers make more quantitative decisions so that they can successfully avoid relying solely on gut feelings.
With applicant scorecards, you can define a set evaluation criteria and provide a rating on a scale of 1-5 with a place for notes.
Let's dive right in. In this article, you will learn the top reasons why scorecards can help give your hiring process consistency and structure (so that you can hire more A-players).
1. Interview scorecards help promote unbiased decision-making.
Let's face it: We all have days when we're not feeling our best — we're only human, after all. Therefore, it's important to find a way to make sure that those "off" days don't impact our hiring decisions.
If you are able to acknowledge that people can be biased (and make an effort to avoid emotional decisions in your hiring), you're already ten steps ahead.
Unless your name is Spock, chances are you're probably not 100% immune to making emotional decisions.
For example, a hiring manager may feel more excited about one candidate over another even though they have the same qualifications.
Or take this real-life example: According to one eye-opening study, judges were more lenient in their rulings in the beginning of the day and directly after their lunch breaks.
Yikes.
So, now that we know humans aren't immune to making biased decisions, what can we do to avoid it?
Well, it all starts with keeping accurate records of your processes.
Maintaining an interview scorecard to evaluate job applicants is one of the simplest ways to help you keep track of the required skills and desired qualities in a role — and since every candidate is evaluated based on the same set of criteria, it helps you stay unbiased and quantitative.
As Ben Dattner of the Harvard Business Review points out, humans can be biased and emotional when hiring. The best thing you can do is acknowledge this and take the necessary steps to prevent emotional decisions from happening in your company by putting the right processes in place.
For example, you may look at your team's scorecard review of two different candidates, only to find that the candidate you originally preferred actually met fewer requirements. After reviewing the scorecards, you might re-evaluate and perform another round of interviews.
2. Scorecards help keep your whole team consistent when making hiring decisions.
Candidate scorecards are a great way to keep yourself honest about what matters most for any given role. It also helps keep you and your team on the same page at all times.
Evaluating candidates in this way will help your team think through their candidate preferences and get super, super specific about their feedback throughout the hiring process.
Rather than a colleague saying, "This candidate is the best so far," without any further explanation, they will instead be encouraged to back their opinion up with specific details supporting their case.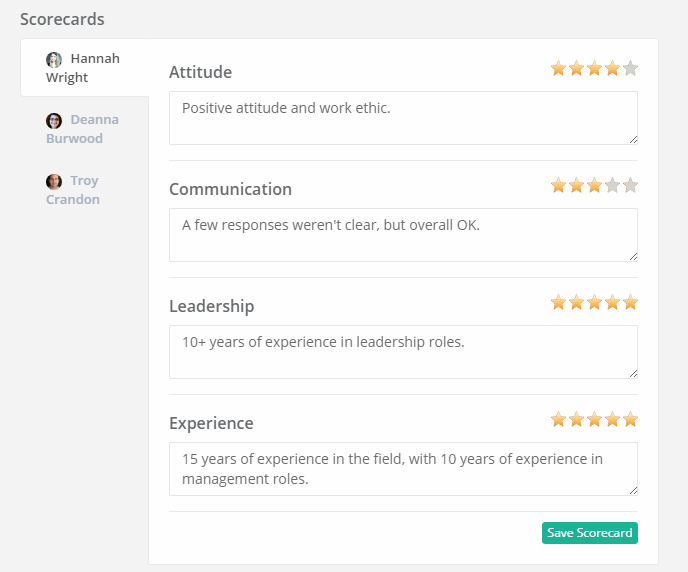 Example of candidate scorecards with built-in team collaboration
With hundreds of applications and weeks (or months) of interviews, it's more important than ever to collect your team's feedback and to keep it all in one place.
That way, all of the decision-makers can weigh in and go back and review each candidate's qualifications to ensure that those who are qualified are quickly moved up the hiring pipeline without getting lost in the shuffle.
3. They help you find A-players by building a repeatable process.
Have you ever wished you could clone a top performer at your company?
I know I have!
The best way to make another successful hire is to look at the qualities of your top performers and find commonalities — then hire for those traits when relevant.
Creating a list of desired qualities for every role in your company means that you will be able to build a repeatable, scalable process that will help you identify top talent for years to come.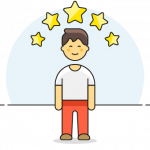 Let's say you made a great hire earlier this year and you're now looking to hire more A-players.
Since your last hire ended up working out and being a top performer, then surely your next hire will be just as great, right?
The answer is maybe, and your chances are much lower if you don't have a process in place.
Let's consider this: How much better would you feel if you had reassurance that the same winning process could be repeated?
The key to this is keeping records, creating lists of desired qualifications, rating candidates based on these qualifications, and making notes throughout the interview process in order to stay consistent.
After all, how can something great be repeated if there are no documented processes in place?
4. Scorecards can help prove that you're complying with employment law.
If you ever need to support or defend your hiring decisions, having records of the system you use to evaluate candidates fairly can sometimes help your case. This will help you prove that you evaluate all candidates for the same set of requirements.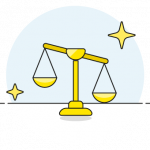 The more records you have of what went into your hiring process (or why you made a hiring decision), the better — even if only for peace of mind.
Even if you don't need those records now, there's always a chance you will need them in the future.
5. Scorecards will help you avoid guesswork & stay organized when hiring.
Even though the hiring process can be chaotic at times, candidate scorecards can help you bring everything together and make sense of it all.
Rather than having to rely solely on memory (I'm pretty sure we all have enough to remember as is!), scorecards will help you keep your candidate evaluations consistent and easy to find later.
In turn, this helps you compare applications fairly, identify common themes, and increase the rate of successful hires for your company.
One bad hire can cause significant damage to a company's morale, while one awesome hire can make a big impact for the better.
Using scorecards throughout your hiring process will help you identify those winners and hire even more of them!
Free Template to Download
Are you looking for an interview scorecard template? Grab your free download below.
Free Applicant Scorecard Template

This is built into HR Partner, but if you want to use an Excel version, download this here.