The workforce has undergone significant changes over the past few years, and the COVID-19 pandemic in 2020 accelerated the evolution of how we work. As companies across the globe quickly adapted and restructured to remote working, this model surprisingly proved to be successful, even boosting productivity among some organizations. While the traditional in-person 9-to-5 work schedule has long been considered the norm, many companies are now questioning if this model is the most suitable for their employees. In today's highly competitive job market, companies are seeking innovative ways to attract and retain top talent, and flexible work arrangements have emerged as a potential solution.
Flexible work arrangements are a mutually beneficial way to promote higher levels of employee engagement, improve work-life integration, and reduce stress, all while increasing a company's retention and efficiency. But what exactly is a flexible work arrangement? It's a working setup where an employee's schedule, hours, or location can be modified to meet their needs while still completing their job responsibilities.
Access the Free Flexible Work Policy Template Now!

Kick off your journey to giving employees more flexibility while supporting your company's employee retention efforts! Our free Flexible Work Policy Template is fully customizable with highlighted fields to suit your organization's needs.
Three Examples of Flexible Work Arrangements
Flexible work arrangements are becoming increasingly popular among organizations of all sizes. They can offer employees more control over their working hours, reduce commuting time, and improve a sense of work-life balance. Let's explore three common examples of what a flexible work arrangement may look like.
1. Hybrid Work Model
The hybrid work arrangement offers employees the best of both worlds by combining the benefits of in-person collaboration and the flexibility of remote work. One example of a hybrid work model is the "3-2-2" approach, where employees work three days in the office, two days remotely, and have two days off. This schedule allows employees to have the structure and routine of coming into the office, while also giving them the flexibility to work from home or another location for a portion of the week.
A more unstructured approach is having in-office days when employees need to collaborate with their team, attend meetings, or have face-to-face interactions with clients but are able to work remotely for the majority of the week. The hybrid work model can also be customized based on individual preferences and needs. For example, some employees may prefer to work remotely on certain days due to personal obligations, while others may prefer to come into the office more frequently to interact with their colleagues. It's ultimately up to you to find what unique mix works best for your organization!
2. Flexible Schedule
Flexible schedules allow employees to complete their work on a schedule that suits them, as long as they complete the set amount of time assigned to them by their employer. This means that employees have the ability to adjust their working hours to better fit their personal lives and obligations.
When employees have the option to work outside of typical 9-to-5 office hours, this can lead to a number of benefits. By allowing employees to have greater control over their work schedule, employers can boost productivity, reduce stress and burnout, and improve overall job satisfaction.
3. Remote Work & Telecommuting
Remote work is a setup where employees conduct the entirety of their work remotely from home or telecommuting from another location outside of the office. This flexible work arrangement allows employees more flexibility in their day to be able to better handle their work, as well as their personal obligations. It eliminates the need to commute to and from the office, allowing more work-life balance. Remote workers use phones, video meetings, and other collaboration tools to connect and collaborate with their colleagues and perform their job duties.
Tips for Transitioning to a Flexible Work Arrangement
As the demand for flexible work arrangements continues to grow, companies are exploring new options to keep employees engaged, productive, and happy. From telecommuting to flexible work schedules to hybrid work models, there are many forms of flexible work arrangements that companies can offer. However, transitioning to a flexible work arrangement can be challenging for both the employer and the employees. Here are some tips to keep in mind to ensure a smooth and successful transition.
1. Communication is Key
Keeping employees informed and involved is crucial to ensuring a successful transition. Employees want to be in the know when it comes to company updates and announcements, as well as have a voice! Regular check-ins, updates, and team meetings can help keep everyone on the same page, happy, and engaged.
The HR Partner news feature enables organizations to send out communications to employees with or without email notification. Your employees can be kept in the loop on anything new and exciting happening within your organization that you'd like to share, as well as encourage conversation by enabling comments on announcements and adding reactions!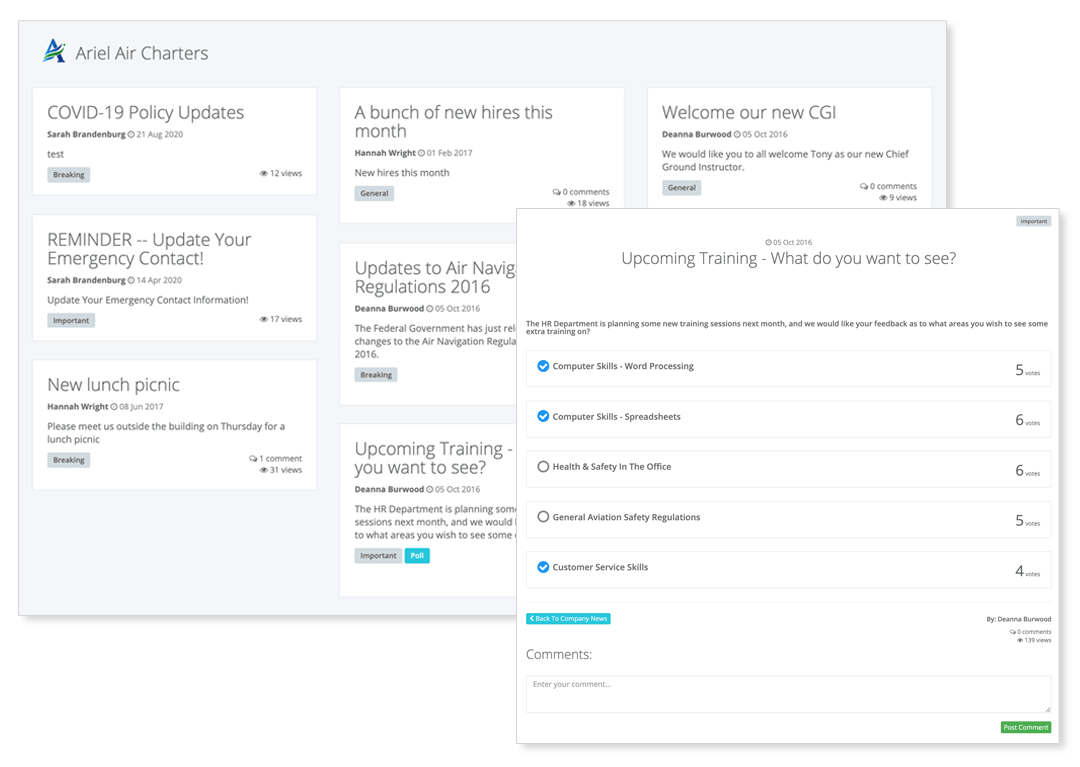 2. Stay Connected
Use the power of technology to stay connected with your team! Using HRIS tools can help facilitate communication and collaboration among team members, regardless of their location.
With HR Partner, employees are encouraged to add a biography to their profile to help other team members get to know them! This is especially beneficial for 100% remote staff as they may not have the opportunity to meet in person with many of their colleagues. This bio is kept up-to-date by the employee, so they can add to it or change their biography when desired.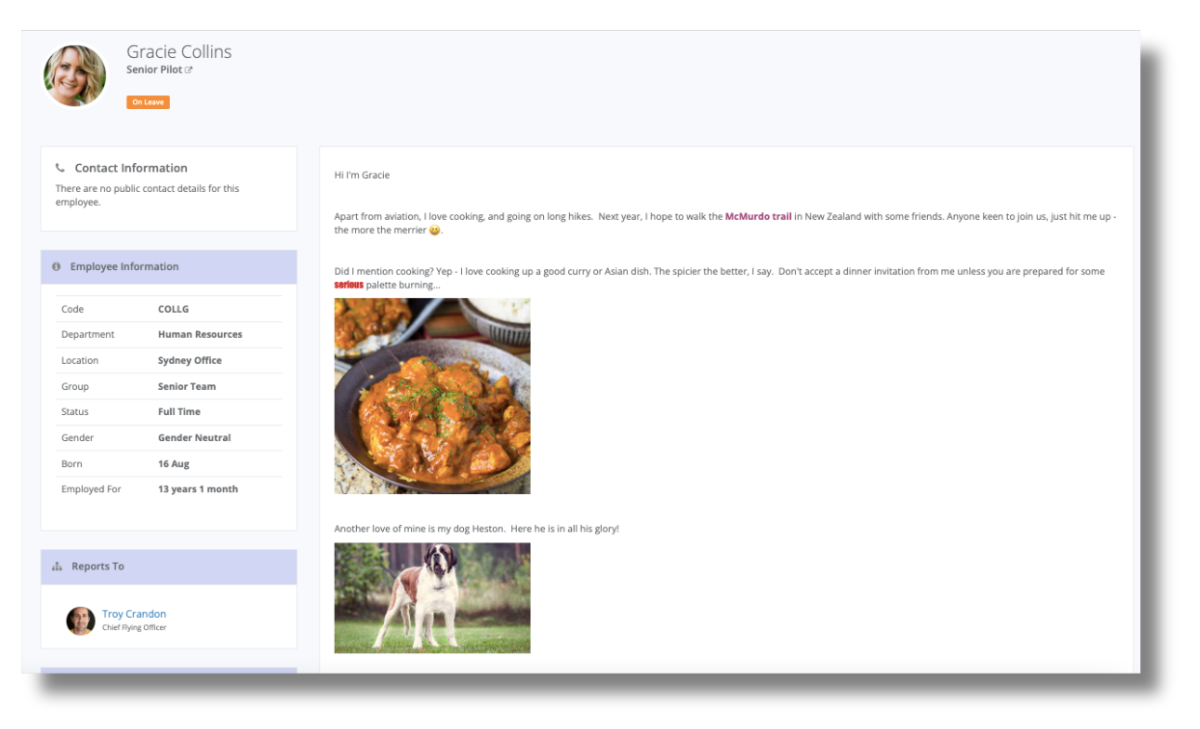 3. Encourage Employee Engagement
Research shows that engaged employees can lead to a happier and higher-performing team. It can be a challenging, yet very important task, to find ways to keep employees engaged even when they are working remotely.
HR Partner's Employee Pinboard helps employees stay engaged with each other by allowing employees to post messages that are visible to the whole team. This tool is intended to replicate the office noticeboard or communal fridge (but virtually), helping foster team culture and engagement.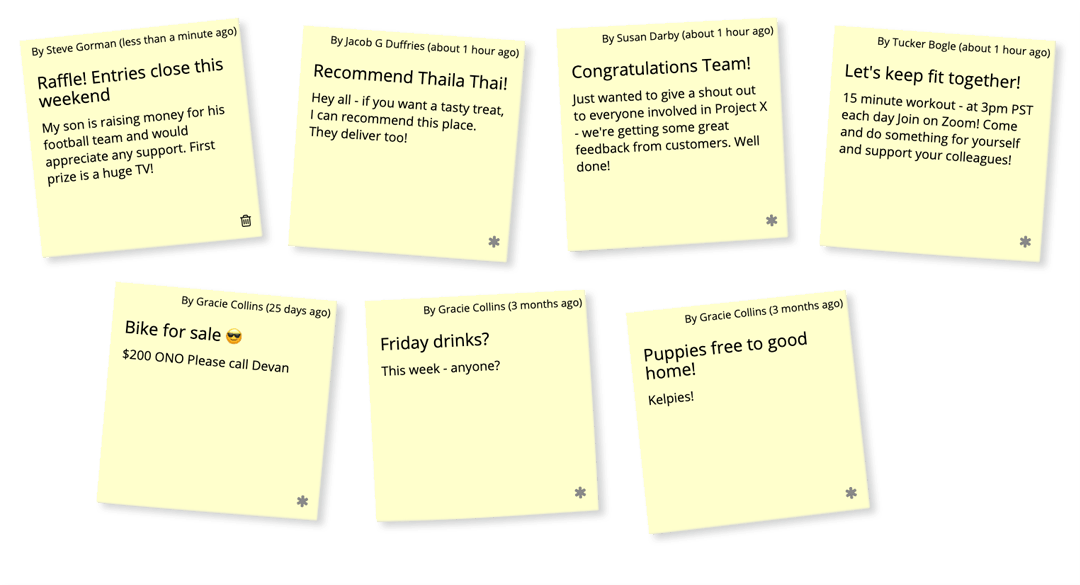 Recognition of important milestones such as work anniversaries and birthdays can also help foster a positive and engaged team culture. HR Partner makes it easy for your company to celebrate these special occasions, which can make a huge impact on employee engagement.
We understand that this can sometimes slip from being top of mind, and can be even more challenging with a remote team. So we've made it easy for you to know when your employees' special days are! Once you log into your Admin portal, your employees' birthdays and work anniversaries are displayed halfway down your dashboard.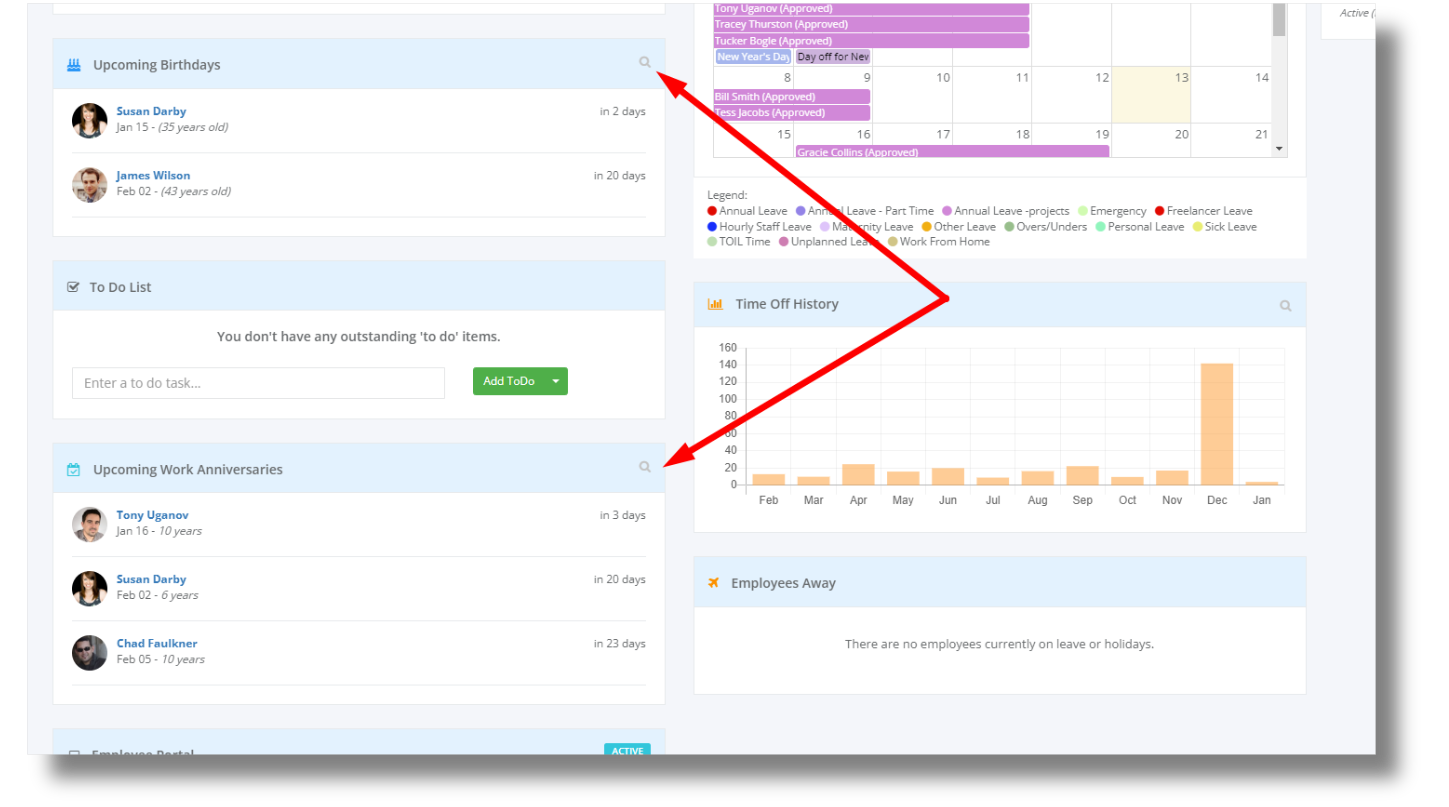 4. Set clear expectations
Last, but not least, make sure to set clear expectations. When implementing a flexible work arrangement, it's important to establish clear expectations for both the employer and the employees. This includes setting goals, deadlines, and work schedules.
Access the Free Flexible Work Policy Template Now!

Kick off your journey to giving employees more flexibility while supporting your company's employee retention efforts! Our free Flexible Work Policy Template is fully customizable with highlighted fields to suit your organization's needs.
Implementing flexible work arrangements requires communication, trust, and successful management to ensure that work responsibilities are met and that employees remain connected and engaged with their team and organization. With the help of HR Partner, companies can successfully transition to flexible work arrangements and enjoy the benefits of increased employee engagement, productivity, and retention.
…….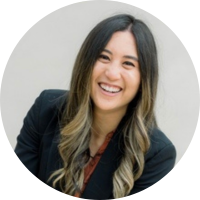 Christina Kryske 
HRIS Customer Success Champion